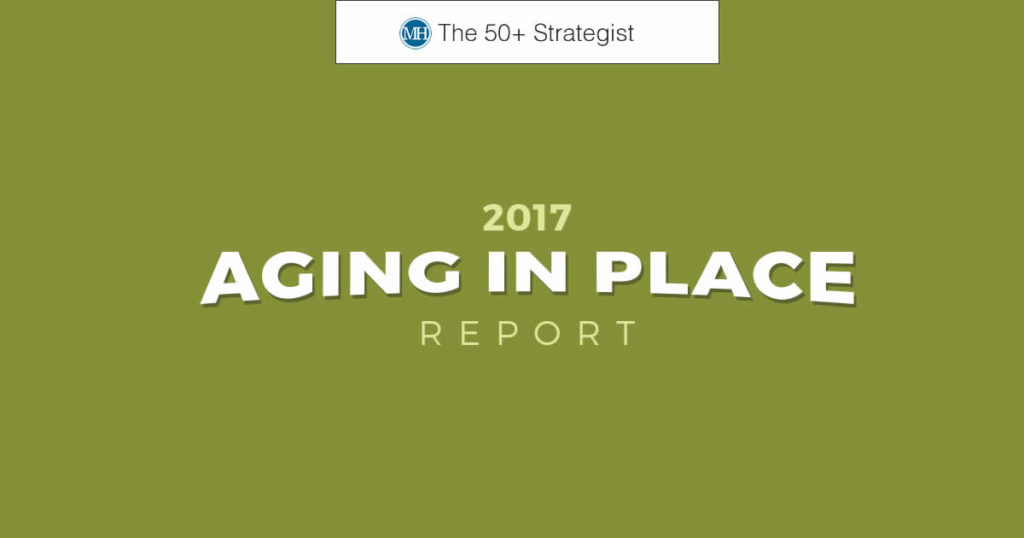 A few weeks ago, HomeAdvisor published their 2017 Aging in Place Report. Which, similar to the 2016 version, has an overview of how things are going in the aging in place arena.
The report is based on a consumer survey conducted for HomeAdvisor. This year's report has data that provides for some deeper insight into the mindset of the aging consumer. Specifically, things you can use for your company.
I only pulled a few key things from the report, since it has so much information. I encourage you to read it, digest and read again, especially if you are an Occupational Therapist or Remodeler.
Feel free to ask any questions in the comments or send me a message.
Insight
People are getting ready, just not for what the industry thinks they should be
Of course, it's not news that not everyone knows what aging in place is. What is news is that people are preparing for it without calling it that.
Yeah, wrap your head around that. They know they want life to be easier at home, but not because they are old.
The aging Boomer bubble is going to burst at some point
Do not be mistaken … it's going to happen a lot sooner than you think it is. This report, along with many other things going on in the market, are clear indicators that the mindset of the consumer is changing.
The older Boomers are realizing:
They are getting hurt or sick, and are making changes in response to that.
 They are seeing their friends get hurt or sick, then making changes for themselves to keep that from happening to them.
Their bodies and minds are changing.
 They haven't prepared for what's coming.
The younger Boomers are realizing some of the same things, but are:
Making changes for those reasons to a lesser degree.
 Making changes in their homes because they want to and including things that they may need later. (That's what I'm seeing.)
This report is gold to help justify the choice to remodel
If for nothing more than, "… more than one-third of homeowners report being unable to access certain parts of their homes; having to rely on the assistance of others to complete daily activities; and taking longer to complete simple tasks in the home due to barriers like steps, high cabinets and narrow doors."
Holistic, but focused
You may be drawing customers along a path to readiness for aging in place, but you (as the business owner) can't let your eyes wander off the target of keeping people safe and healthy at home. People reported that over time they tripped or fell (41%), took longer to do certain tasks due to steps or cabinets (37%) or had to rely on help from others (36%).
None of these are surprising. But, what is surprising is our inability to articulate these occurrences in a way that the older people you serve will grasp quickly.
There's revenue in what they missed
With all the work people had done, they actually wished they'd done more than they did. And, not crazy stuff, either. Here are a few things that some were sorry they didn't do;
Pull-out drawers in kitchen cabinets
 Renovated a bathroom
 Changed door knobs to lever handles
Which, is interesting, because I know at least two of those (if not all three) are things that most every person who knows about home modifications would tell a client to do.
Tell me why you think they might choose not to do those things, yet will do other things, in the comments.
Tech is getting a firm footing
Seven of the top 20 things people had done to their homes were technology. All of these fall into two categories: safety and comfort. New revenue stream?
Just for kicks
The funniest thing in the report is also a biting reality: "After all, grab bars in the bathroom can't help someone who insists on climbing a ladder to clean the gutters." Which, after you think about it for a few minutes, will clearly support the need for professionals to educate people.
Advice
Get out into your community
Become a voice for the act of preparing for the next chapter in your life. If a person wants to remain in their home and keep their quality of life as they grow older, there are things they need to learn and act on. You need to be out there leading the way for people.
Be thorough
You know that aging in place takes more than just a remodeled home. People need to understand how these changes work hand-in-hand with other changes in their lives.
Learn how to talk about what you do
That may seem condescending, but it isn't meant to be. Overwhelmingly, every business owner or organizational leader I've ever worked with did not understand how to convey what they did in a way that their target consumers would warm up to.
Go wide
If you're a Remodeler or Builder, build a relationship with an Occupational Therapist so you can provide that holistic approach to home design. (You'll be able to provide an even greater level of support and security to some of the families you work with.)
Then, go deep
No matter your profession, fill your professional network with people who serve the same customers you do, and who are trustworthy, reputable and experienced. Then, find creative ways to cultivate mutually beneficial relationships with them.
This is how you can provide a holistic approach to your clients.
Get a home automation company on your team
Seriously, you need to pay attention to the number of technology items people are having installed. This isn't about just being cool; it's about comfort and safety for your clients.
It's also not just about immediate revenue, but also how it can apply to your position in the local marketplace and your ability to serve the caliber of customer that is best for your company. (Read, can afford more/better.)
---
New or Interesting – Step2Bed
From time to time when I find a new product or service that I think are interesting, I'm going to include it. (An irregular addition.)
This is a new product I was introduced to several weeks ago, called Step2Bed. I talked with the founder Vince Bairea about it. (Who, also happens to be a nurse.)
The premise is simple: A better step into bed for people who need it.
It has some cool features, including a motion-activated light, it's extra-wide and no-tool assembly, Check it out.
Watch this short video to learn more and visit their website at https://step2bed.com.
---
A new program by Mark Hager to help you get you aligned with the best customers over 50, so you can maximize revenue and build a stronger financial future.