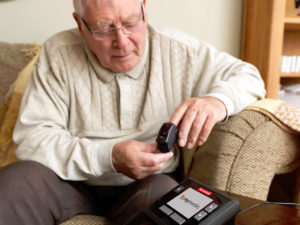 What an honor it was to be asked to collaborate with renowned Telehealth author & consultant Audrey Kinsella, MA, MS. While planning her new resource, "Seniors Living Safely at Home: Needed Telecare-Ready Tools & Assisters", Audrey reached out to those she believed were industry thought leaders to talk about technology and solutions that would appeal to those professionals serving the older population. Also included in this new resource is Rob Flippo, CEO of Mobile Help.
Audrey's career in telehealth technology, care planning and education has spanned decades. She has authored hundreds of articles and 6 books on the subject of telehealth and related ideas.
Here's an excerpt from the opening page:
"Translated into seniors' own everyday language was this: "We want to stay home." Period. Home is where they want to be, not nursing homes or assisted care facilities.
Servicing Independent Seniors. Oh, and we should mention, that this elderly, independent-minded audience is projected to grow VERY rapidly in the next twenty years. You can get an idea by noting the growth in the here and now: It's been estimated that 5500 Americans turn 65 per day. But take note–we're not just talking about an older general population—it's a booming elderly patient population. According to Chronic Care in America: A 21st Century Challenge, at least 2/3 of American seniors live with at least one chronic disease.
What does this mean for today's home care program planners? At least one must-do is this: find means to make daily caregiving/carereceiving easier and targeted for these seniors."
To say that I'm stoked to be included in a collaboration with such bright people is an understatement.
Photo credit: Tunstall Telehealthcare / Foter / CC BY