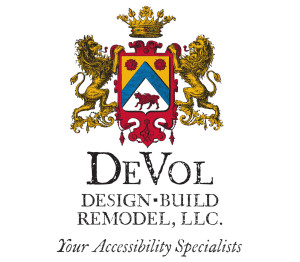 Since November of 2015 I've been working with Jeff DeVol of DeVol Design Build Remodel in Loveland, OH to tightly focus their marketing on seniors and those in need of accessible remodeling.
DeVol needed to position itself online to attract new customers over the age of 50, as well as people who needed their homes remodeled due to specific physical needs. The challenge was to do this in the very competitive home remodeling market of Cincinnati, OH.
›› Contact me about marketing your company
To engage and excite potential customers, I created a vibrant DeVol brand website that highlights their passion and expertise in accessible remodeling. I emphasized the advantages of their personal touch with customers, testimonials, accessible design and remodeling.
I've spent the last year or so tweaking and optimizing all of the content on DeVol's website for local search … to reach those potential customers right in their time of need, when they are looking for solutions.
The results
Our work so far has led to a three-figure increase in Google search ranking for web pages about DeVol's primary remodeling services, more positive brand exposure and a 250% increase in the number of new visitors to his website.
Working with Mark has been a pleasure. He is easy to work with; he is patient and listens to what I want, but pushes back when needed. Mark is very knowledgeable in Aging in Place and the needs that exists as people age. I couldn't be happier with where I am at now and the process to get there.
– Jeff DeVol, Owner – Loveland, OH
We're not through yet! DeVol has retained me indefinitely to continue building out their website content, managing their social media and consulting on various business development projects.
Project scope
New mobile-friendly website design and build
Tight focus on core services
Fully optimized web pages
Keyword / Competitive research
Google My Business profile
Customized WordPress theme
WordPress training
Content creation & optimization training.
Marketing consulting
Social Media training
Facebook page management
Content creation, optimization, management
›› Let me help you reach more customers over age 50
Website : http://devlodbr.com