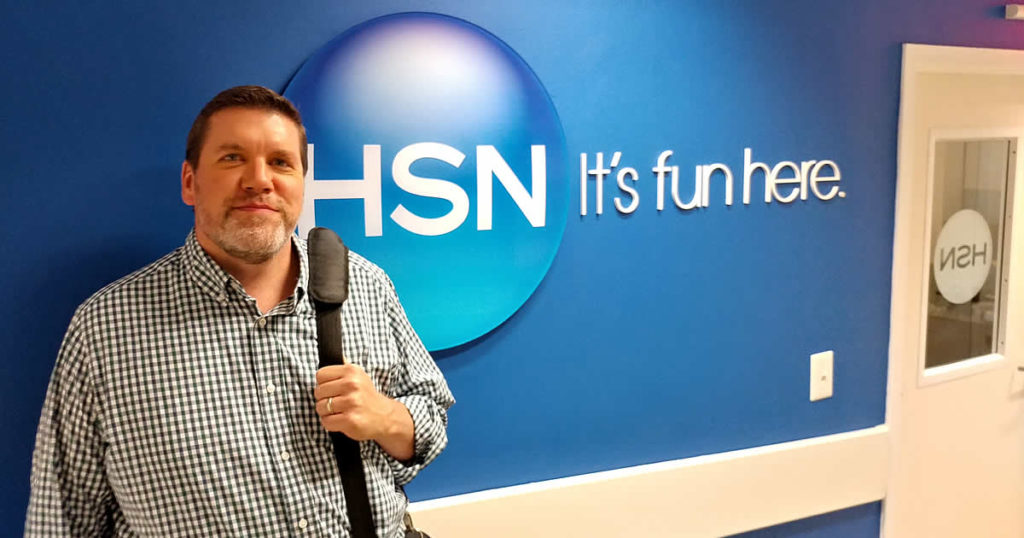 Recently, Home Shopping Network (HSN)asked me to talk about aging in place on their Connected Life show. I want to share my key takeaways and thoughts from the experience that I believe are most beneficial to people serving the 50+ demographic.
(You can see the interview portions & snippets here.)
What you need to know about my HSN experience
1. It's a big deal
Before heading over to HSN in St. Petersburg, FL, I was struck by a thought.
It wasn't that I was going on live TV in front of the biggest audience I've ever addressed. Or, that I was going on a national network to teach people about how to make their lives better when they're older. (Which was awesome, by the way!)
It was, "Home Shopping Network is going to cover aging in place!"
I know that doesn't sound like that much of an epiphany. But, think about what it might mean that a national shopping network dedicates time and money to the idea of people staying in their homes for as long as possible as they grow older.
And, it wasn't just a mention of it; they wrapped a whole two hour show in the topic. As someone who worked nearly a decade in the lifestyle programming world, I think that is a very big deal.
2. Aging in place is going mainstream
For over 10 years I've been asked when we would reach the point when most people knew what aging in place is. It's not really a surprise for those of us working in the industries swirling within the Longevity Economy when we hear it being discussed. And, it true that people hear it regularly on the Internet, TV and radio (and they're warming up to it). Especially at a local level.
It thrills me that more people are realizing that their later life is affected by more than just the money they've saved for retirement.
But, is it mainstream, yet? No, but this is an indicator that we're well on the way to that. We just need events like this to keep happening, so the momentum continues to grow. (Which, mark my words: it will.)
3. You have to be seen as the expert if you want people to listen
HSN specifically searched for someone who knew what people needed to know; someone who was regarded as an expert. They wanted actionable information that could help viewers make their lives better.
Your current and potential clients share the same desire. They want to know that they can trust what they are told and the purchases they make. It helps them feel confident and secure in their decision to take action.
4. Your progress is directly affected by your presence
Whether it's getting an interview or a new customer, how you position yourself in the communities you serve is of utmost importance.
I've spent years helping leaders serving people over age 50 to reach, market and sell to older adults more effectively. As well as, teaching and helping everyday people through my site at AgeInPlace.com.
The results of that investment into building my presence and brand made it easy for HSN (or anyone else) to discover my relation to the ideas of aging in place or building a business serving older adults.
5. People are hungry for good information
On one side, the folks at HSN wanted to learn everything they could about aging in place, my ideas and the experiences consumers have. Almost everyone I talked to was interested or had questions.
Interestingly enough, most of the folks I worked with there were in their 30's and 40's. We talked with people about their parents, in-laws and grandparents. They even wanted to hear about what they should be doing to prepare themselves!
On the other side, I think the topic resonated with the audience. People tuned in, they made purchases and they called into the show. I'm not privy to the results of the show, of course. But, my perception is that it was successful.
6. A deep understanding of who you serve is your cornerstone
I believe HSN has a deep understanding of its customers. Which, helps them have the ability to provide those consumers what they want, the way they want it. And, that this is one of the drivers of its success.
Not just products, either. IDEAS.
In your company, knowing exactly who your best customers are (or can be) is core to being able to create an experience that will draw people in. It should affect how you talk about what you do, how you market, your processes and more.
7. Your relevance to potential clients affects your revenue
I also believe that HSN's understanding of its strengths has enabled it to take specific steps to reach specific market segments. One of those steps is:
Creating lifestyle content that is relevant to the people over age 50 they are serving. (I will even go so far to say it's hyper-relevant.)
Relevancy puts power behind a company's effort to market and sell to specific customers. If you becoming relevant to the lives of your prospective customers isn't part of their journey with you, if you aren't providing value before talking about a sale … your results will be less than they could have been.
8. You can tip the scales in your favor
HSN executed to near perfection the 'unfair advantage' I work to help my clients achieve. Which, is based on this idea:
In today's world, you have to know who your best customers are, align with them, provide up-front value, teach them about the results they can have and show them how to achieve it.
Selling is a natural by-product.
Your job as a business owner, organizational leader or entrepreneur is to figure those things out and leverage them. It's a proven way to reach your goals, be that increase revenue, expand, grow your market share, get better customers or help more people.
It's an investment that can fundamentally change your company's current situation and take it to a future more like you envisioned.