On January 18th I had the privilege of presenting, "Aging in Place and the Age-Friendly Community" to the City of Bozeman, MT with my colleague Aaron Murphy.
"Thank you again for an awesome presentation to our Bozeman Community!  We were so impressed on many levels.  The fact that you researched Bozeman/ Gallatin County and personalized the presentation was beyond expectation!  I have never seen a group of older adults so attentive. There was so much valuable information and our hopes were realized …"
– Cheryl Bartholomew, co-organizer, Active Aging Week, Bozeman, MT
About the event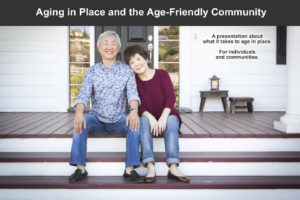 This two-hour virtual event was their "Active Aging Week", which is a yearly event sponsored by International Council on Active Aging (lCAA). The goal of this presentation was to help drive awareness about aging in place in Bozeman and Gallatin County. During the presentation, we tackled the idea of aging in place for the individual, as well as what it means to the community.
Topics included:
Home remodeling & lifestyle

What aging in place really means.
What must be done to a house to make it safe and comfortable for seniors.
The cost of waiting to remodel your home.
Ideas on how to pay for home remodeling.
Tips on easy, low-cost things you can do in your daily life at home.

Age-friendly community

What makes a community age-friendly.
The realities a community faces supporting older citizens.
How should your community start.
Who should be involved.
Common obstacles and solution ideas.
The event was held in the Bozeman Public Library in a large conference room. The presentation was in two parts (as noted above), with time for questions at the end of each section.
There was a large list of invited guests included from all walks of life, sectors and across City and County organizations, including:
Citizens from the Bozeman, MT area
Local & County government officials
Local business owners
Community organizations
Social services
Many others
Learn more
Click here to learn more about this program and learn how it can impact your community.