The 50+ Strategist, where you'll discover current events, trends, news or ideas that can help you generate more revenue serving the 50+ demographic.
Is this the real life? Is this just fantasy?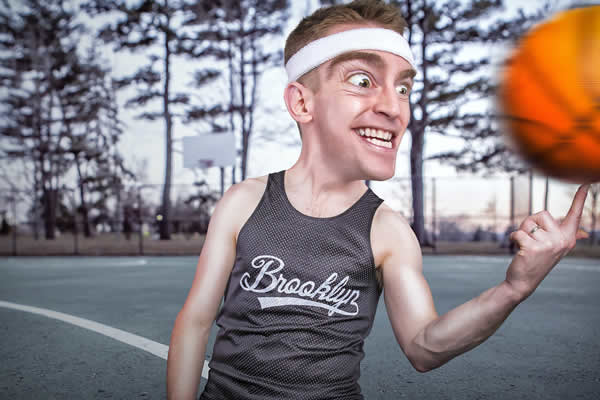 As a local company or organization, sometimes it's hard to get your brand out there the right way. By "right", I mean in the way that inspires people to warm up to you and buy.
We've seen ad companies for decades try all different kinds of approaches to branding, from being the creme de la creme choice to outlandish gimmicks to appealing to down home sensibility. But, how do you know what will work for you?
I'll let the cat out of the bag right now and say, you should err on the side of social realism. Meaning, portraying your target customers in your marketing in a way that looks natural and authentic. (You can see a current-ish look at examples, channel usage, etc. of a few different approaches, here.)
Insight
For you, this isn't just about whether you have a crazy or realistic ad; it's about branding. Specifically, how your brand is represented at a local level to the actual people you want to serve.
Most of my clients would never create a crazy ad or use marketing gimmicks that might tarnish the reputation of a dependable local company. Converse to that, most of their marketing materials, websites and interviews are the same dry and boring things you'd find in 1994.
You've probably heard me say you have to be relevant to the people you're trying to serve. Well, if you're serving today's older consumer, talking about how to keep yourself from falling is not going to draw new customers in. (Unless, you're specifically targeting adult children of the much older.) Nor, will a diatribe of nonsense.
My advice is to position your company as one who understands the older customer as an individual, and wrap that in words and images that they can relate to.
Less serious; more empowering. Less negative; more hope. Less 'fixing'; more inspiration.
Way less patronizing; more relevant and supportive.
Action
One of the easiest places to start is to review the images you use in your marketing materials, including:
Brochures
Website
Ads
Publications
Then, take a few minutes to think about your best customers; try to get yourself inside their lives and minds. Immediately following that exercise, read one of your brochures OUT LOUD.
How does it sound?
Patronizing? Like you serve a bunch of senile, old fuddy-duddies who aren't capable of taking care of themselves?
Here's the truth: People know they are marketed to. They want to do business with companies that get them, understand their problems or dilemmas, and can offer solutions.
But, you have to show respect.
Just a few tweaks to what you're already doing can massively impact the results you're getting.
---

As Good As I Once Was
We have all waxed nostalgic about years gone by … wide-eyed wonder as a small child, on-fire for a cause in our college years or passionate about work that was meaningful as an adult.
But, what does that look like when we're old?
A common theme in our society is that once you're of a certain age, you no longer matter.
Do you feel that way?
Do you feel like that once you hit 67 or you retire, you're going to be a washed up?
Of course you don't. But, that's pretty much the prevailing sentiment we have a society. Note, I did not say that's how we all talk about getting older. But, the direction our country has taken us. I know that's not what most of us think.
I know that's not what most of us think. Beyond being plain wrong (at many levels), it also is an extremely unprofitable mindset.
"We see purposeful ageing as the opportunity to remain engaged, with a real sense that our lives continue to have meaning and value no matter how old we are." ~ Interview with Caroline Servat, Associate, The Center for the Future of Aging, Milken Institute
Insight
The trend for the foreseeable future is that people are going to keep working long after age sixty-five. Beyond the retraining mentioned in the article for older workers, I think that re-framing them is equally important.
What I mean by "re-framing" is: Re-evaluate how you think about older people as workers and contributors to your company and community.
There is a vast amount of experience, insight, knowledge, intuition, skill, ethics, character and a ton of other stuff that is good about these folks.
All of that can work in harmony with what you've already got going for you to create value (and a wonderful experience) with your company.
It can work for you as an owner, as well as for an employee, customer and community.
Action
As with most any change in an organization, it starts at the top. Specifically, with you having a good look at your thoughts or preconceptions about older people.
Changing your company's stance on them, by talking about and taking advantage of the value they bring to the workplace. This includes adjusting the thinking of your other employees.
By leveraging their insight and experience, you can have a real affect on the value you provide your customers, while simultaneously increasing the revenue you generate. They can be both employees (or contractors) with skills and knowledge, as well as older consumers. (That last part is a gold nugget!)
You can use their presence in your company to help you build your brand with the older consumers you want to serve. This can be as a face of your company (not necessarily the face). Or, as a peer for your customers, who just happen to work for the company.
---

It's a Matter of Trust
There is a lot of information available that supports the idea that customers will spend more money with brands they consider meaningful. More specifically, they trust brands that matter to them.
Here's a very good article that simply illustrates the theory and what it means. (It's based on a survey conducted by Havas, an international advertising agency.)
Insight
Here's one point from Maria Garrido, international marketing director for Havas:
"… a meaningful brand offers three types of value to consumers:
Marketplace benefits, which include the value delivered by its products;
Personal benefits, such as what a brand does for individual customers; and
Collective benefits, which include what the brand does for society as a whole."
A few other things Havas discovered in the U.S., include:
"Respondents only said they trusted 22% of brands.
Fewer than 3% were perceived as having a positive impact on people's sense of well-being.
74% of brands could disappear and people wouldn't care."
I'm going to go out on a limb and say that you don't want that to be your company.
Action
Stop taking yourself and what you do so seriously. Yes, you need to do good work, please your customers and add value to their lives. But, you need to be approachable and authentic; not staunch or pious.
Figure out what's to love about your company and start talking about that some. (Not all the time, of course.) Do you support a local charity? Have a product or service that is unusual or has been extremely beneficial to customers? Have a unique way of running your company that supports common values in your community?
Dive deep into who your best older customers are and what their lives are like. Then, figure out better ways to align your company and marketing with them.
---

A new program by Mark Hager to help you get your company aligned with the best customers over 50, so you can maximize revenue and build a strong financial future.  
» Learn More